Freelance translator workflow: step by step
Ten years ago when I started to study linguistics and translations, we were taught how to translate: what is a theory of translation, how to convey the meaning, to keep it's shape… But nobody said how to perform translations.
Well, I got a first customer who tells me, "I need you to translate a document from Chinese to Russian," and then what? Open it in Microsoft Word and write over the original? Or should I open the document on the left and right parts of the screen, and rewrite, trying to copy the formatting? Or should I just paste it into Google Translate and then edit a bit?
Let me tell you how I work. If you are just learning to be a translator, or do you have to translate something from time to time, you might learn something useful today.
Disclaimer
I am not saying that every single translator are working this exact way, but it gives you the idea of a possible workflow based on real-life experience. If you think something could be done better or more efficient, you are more then welcome to leave a comment!
What do we have as a source?
Translator is faced with a text in different formats. This may be an agreement in the Microsoft Word *.doc with formatting and footnotes. This can be the schedule of construction works in the Excel spreadsheet.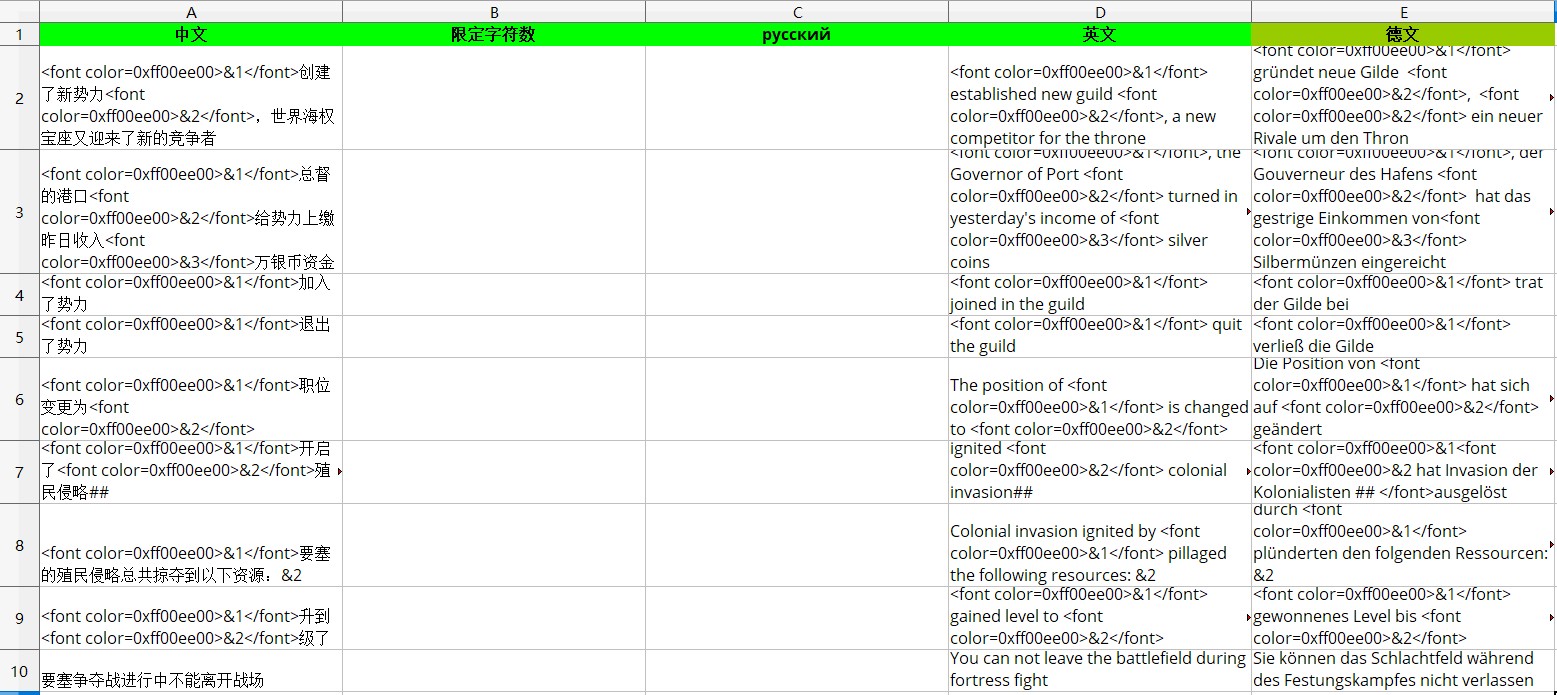 This can be a bunch of emails from Outlook. This can be a string of the application in any *.xml like format.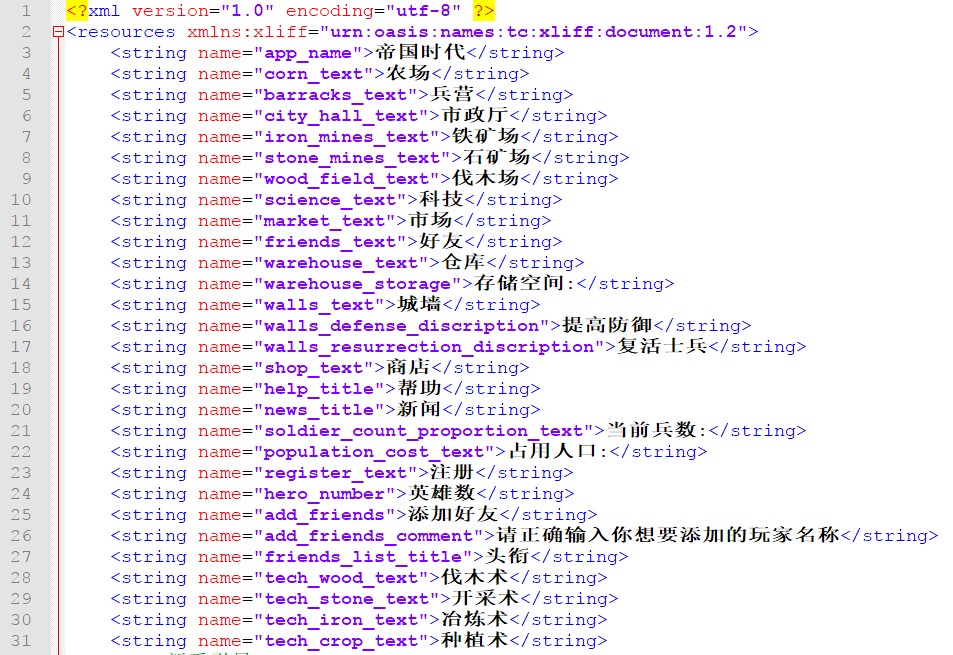 What to do with all this? How to translate? What's to keep a Glossary of frequently used words?
Technologies
Computer Assisted Translation
Computer Assisted Translation (CAT) is the working principle of translation, which is must in the translation industry of 21st century. It is impossible to be competitive as a translator, ignoring the modern technology. There are many standalone programs and online applications related to CAT, such as Trados, MemoQ, Tolma.ch OmegaT and so on. They all share the same principle: the text is divided into segments, which are translated one by one. Each segment and its translation automatically saved in the TM (translation memory, the translations database) without reference to a specific document. The program analyzes each new segment and looking for similar in the TM. If there is an exact match, the software can automatically substitute the translation, if the match is partial — it will underline similarities and differences with the current segment. CAT tracks terminology, helping to maintain a consistent translation of terms in the set of documents (name of spare parts, characters, etc.). The more you work with CAT, the more is accumulated in translation memory, the easier it is to translate every new document.
Machine Translation
Using the machine translation for as a helping hand for actual human translator is a trend the last few years. That does not mean to translate via Google Translate, it is just a handy display the machine translation of each segment in the process. This increases the speed of translation 100-200% without reducing the quality. However, this only works when the translator actually knows the language. To edit a machine translation from an unfamiliar language is absolutely impossible, and this can significantly distort meaning.
Software
These programs will be useful in translation work. I will elaborate on each of the programs as required.
Workplace arrangement
Let's arrange your workspace in a good and efficient way. Do not store files on the desktop or in My documents. Have a separate folder like Work, and use it for work-related items only. You can arrange it's inside as you find useful. For me, the second level of the folder are companies I am working with.

I'm big fan of automation in translations. The more you translate, the more is accumulated in Translation Memory, the easier it is to translate in the future. This is why I try to perform any translations in OmegaT. It is not hard to get used to working with CAT. You just have to store the source file in a specific folder, and then launch OmegaT. Sometimes the file require some preparations, but it is not difficult.
Preparing files for OmegaT
The main idea is to leave only content you need to translate, and remove all extras. You can keep formatting though. For example, here in Excel spreadsheet a customer can request columns like ID Chinese, Russian Comments. Obviously, the end result should be the desired content but the title does not required translation. Create a copy of the file and delete the contents of the extra columns and rows, but don't delete the rows themselves to not break the file structure — it will be easier to gather it all together in the future.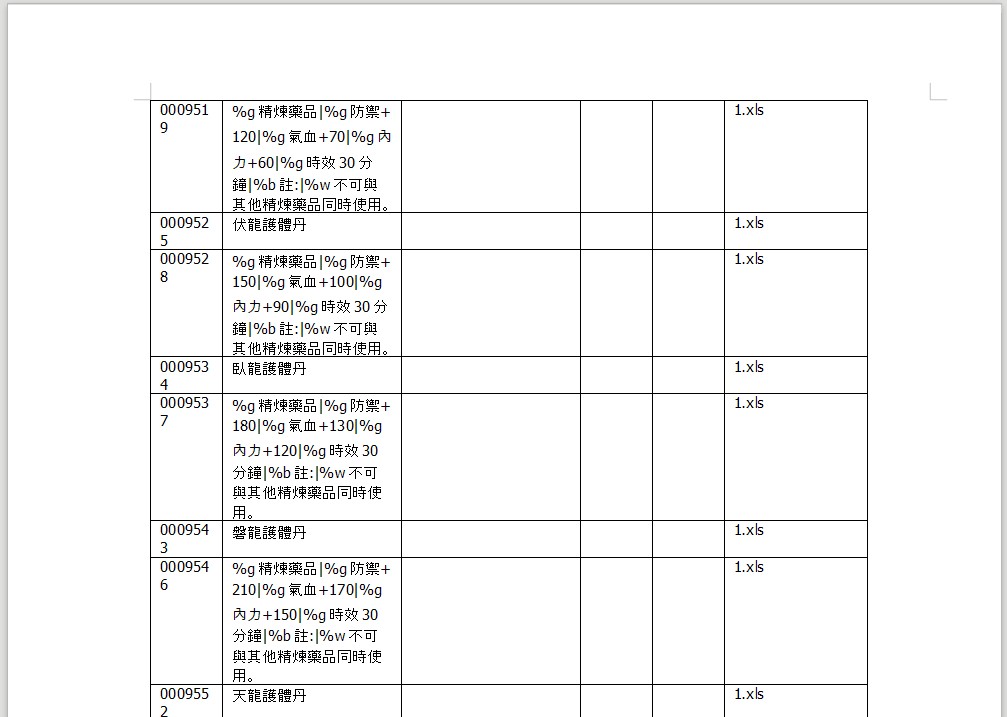 In a text document, extras could be the comment of the customer, translation-explanation in the target language, and so on.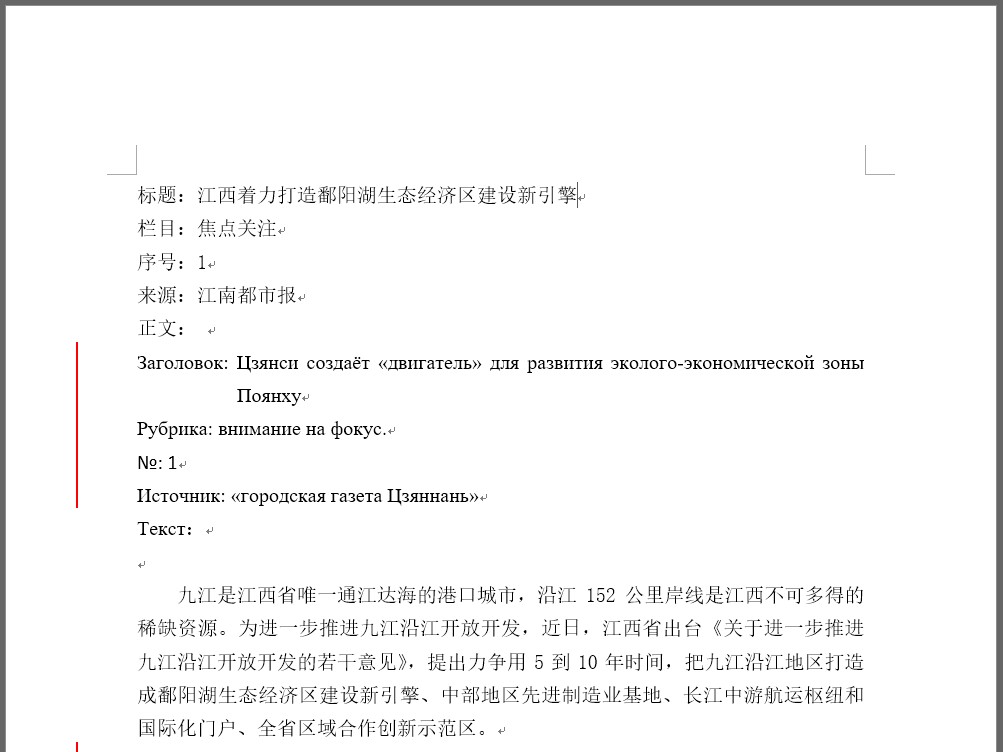 Sometimes the Word document is just a repository for disparate pieces of text, which the client graciously structured in the same file.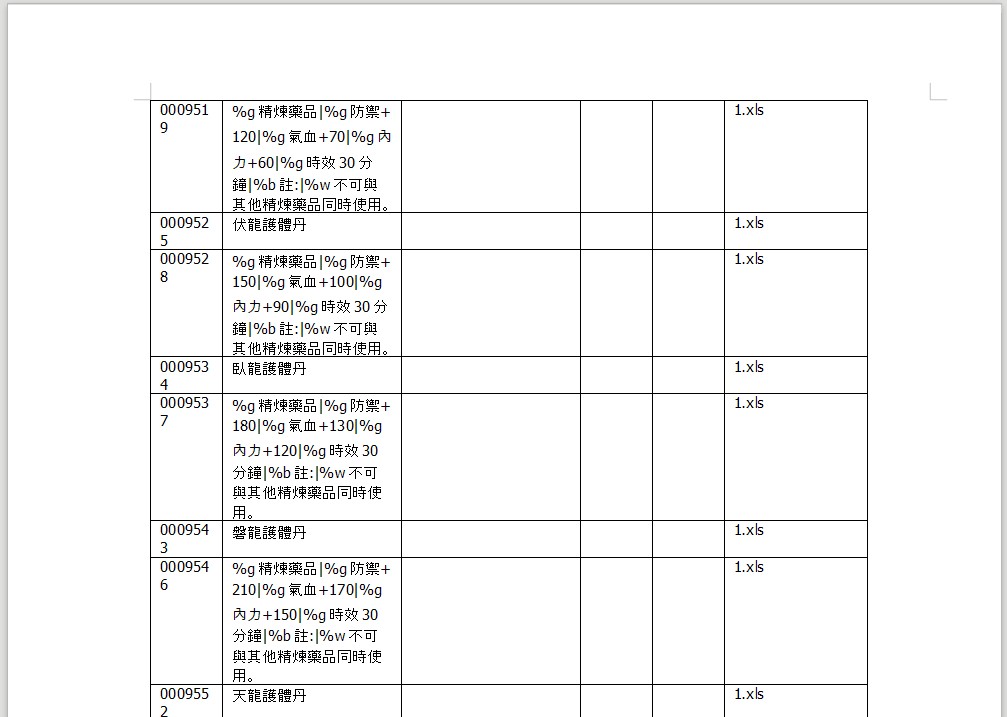 Some technical files, like strings.xml from Android apps, in addition to the text contains variable names, it looks like this: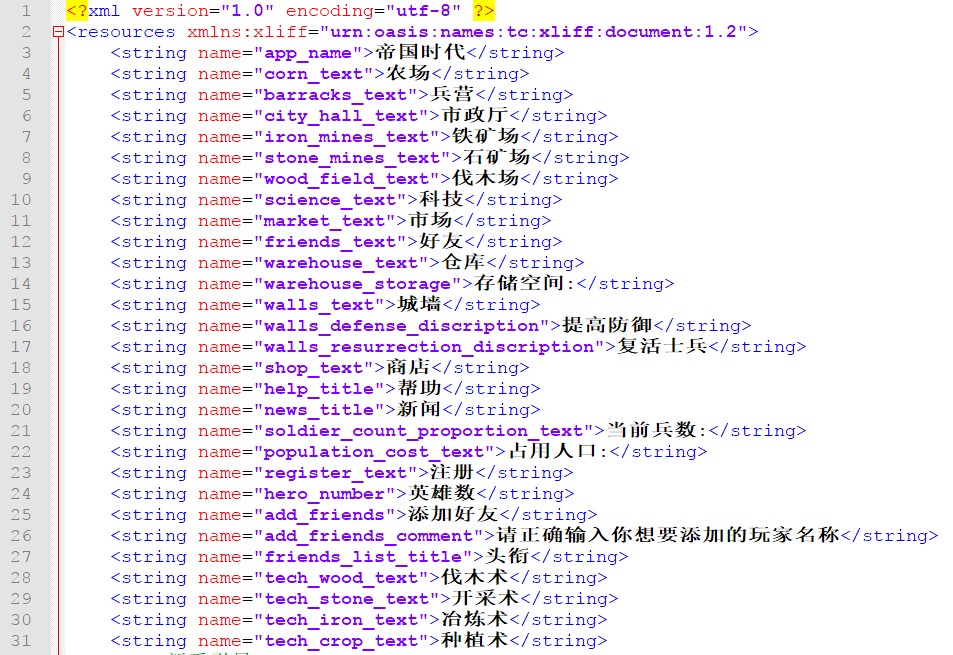 However, OmegaT and other CAT tools are familiar with the structure of the files themselves, and can hide irrelevant content from you during translation phase. If you constantly translate emails, just copy the letter text into a text file or Word. Summary: save the formatting, remove irrelevant text. Always keep the original files that customers send you.
Projects
We assume that you have installed OmegaT and connected machine translation. In OmegaT each project has only one working TM, where newly translated texts are stored. It is therefore reasonable to create separate projects, not only in language, but on the subject of translation. For example, I have a project General_ZH-EN for general texts and some random orders, and Games_ZH-EN for game texts. In addition, when working on large projects of a particular customer, it makes sense to create a separate project to maintain a unique terminology for this specific product. For example, for translation games Luvinia from Chinese to Russian I have project called Luvinia_ZH-EN. The memory from one project can be added to the other as the auxiliary: started to work on the translation of the new game — create a separate project, and connect the memory of the other game projects.
Glossary
Keep a project Glossary is very important. Glossary not a dictionary, it is intended to store translation of the word in the context of a specific project. Add a new entry to a Glossary in OmegaT is not difficult, here I show an example. In the Glossary you should add project specific terms. For example, in games on Playstation joystick should be called only "controller" and Xbox is "gamepad". It is requirements by Microsoft and Sony respectively, you can't confuse them if you are doing a serious translation.

In fiction and non-fiction translations, you can add character names to the glossary, especially if the translation is not directly derived from the original. For example, a man named 灰 [hui] can be translated as Hooee or Hui, and if it is a character in the game (and Chinese origin can be neglected), then he can become Mr. Gray.
When the name is found once in three thousand characters, you can forget exactly how you phrased it, and even if you ever met it in the first place. Glossary and CAT will prompt the correct option before you'll think about it.
Translating! — examine specific case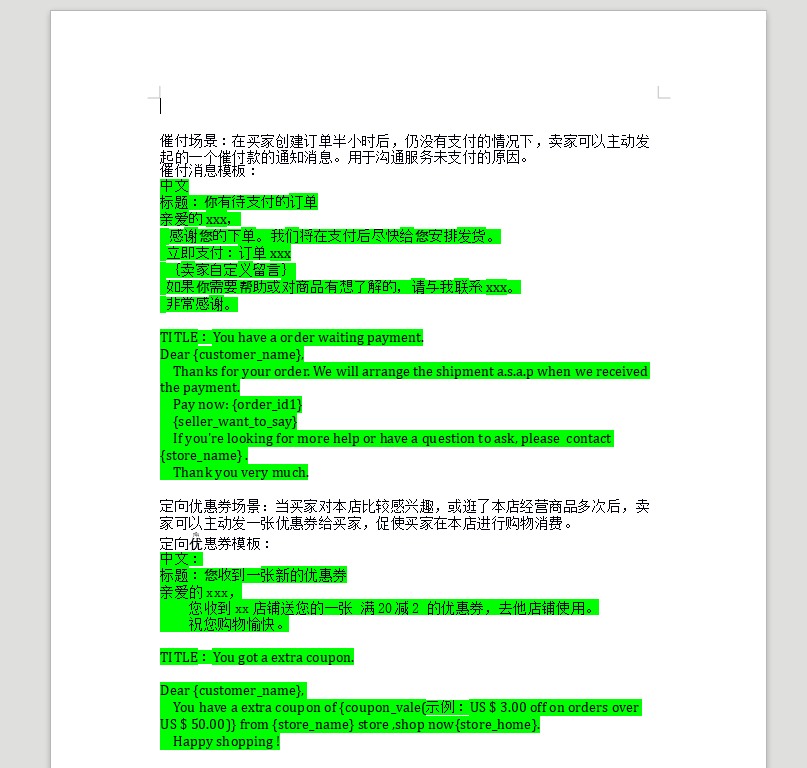 The customer has given us a file in Word. I will explain it's processing step by step.
Define the content
We translate from Chinese to Russian. There are lots of Chinese and some English in it. Obviously, not all of this will be visible to the end user. From the context it is clear that it is not necessary to translate: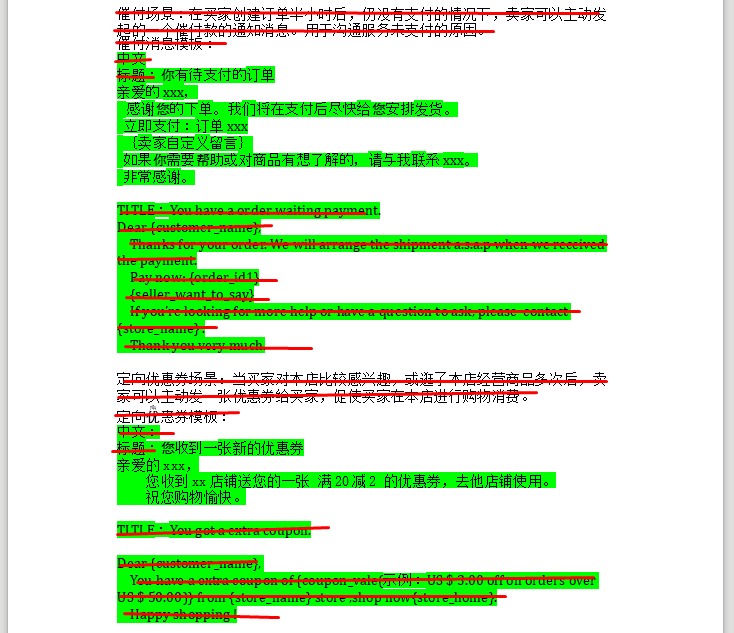 催付场景:在买家创建订单半小时后,仍没有支付的情况下,卖家可以主动发起的一个催付款的通知消息。用于沟通服务未支付的原因。[situation: ….] This description of the situation for which the desired text will be used.
催付消息模板:[template payment reminders] This is just the beginning of the template that you want to translate.
中文 [Chinese] This means that on the original text in Chinese
标题 [the title] Means that then comes the header
…and similar sentences. As well as English, that we will leave as it is.
Making a copy with desired content
Now save the important part in a separate file without any extra rubbish. The most obvious solution would be to retain the text in the same format as the original Word, ridding it of debris. You will get something like this: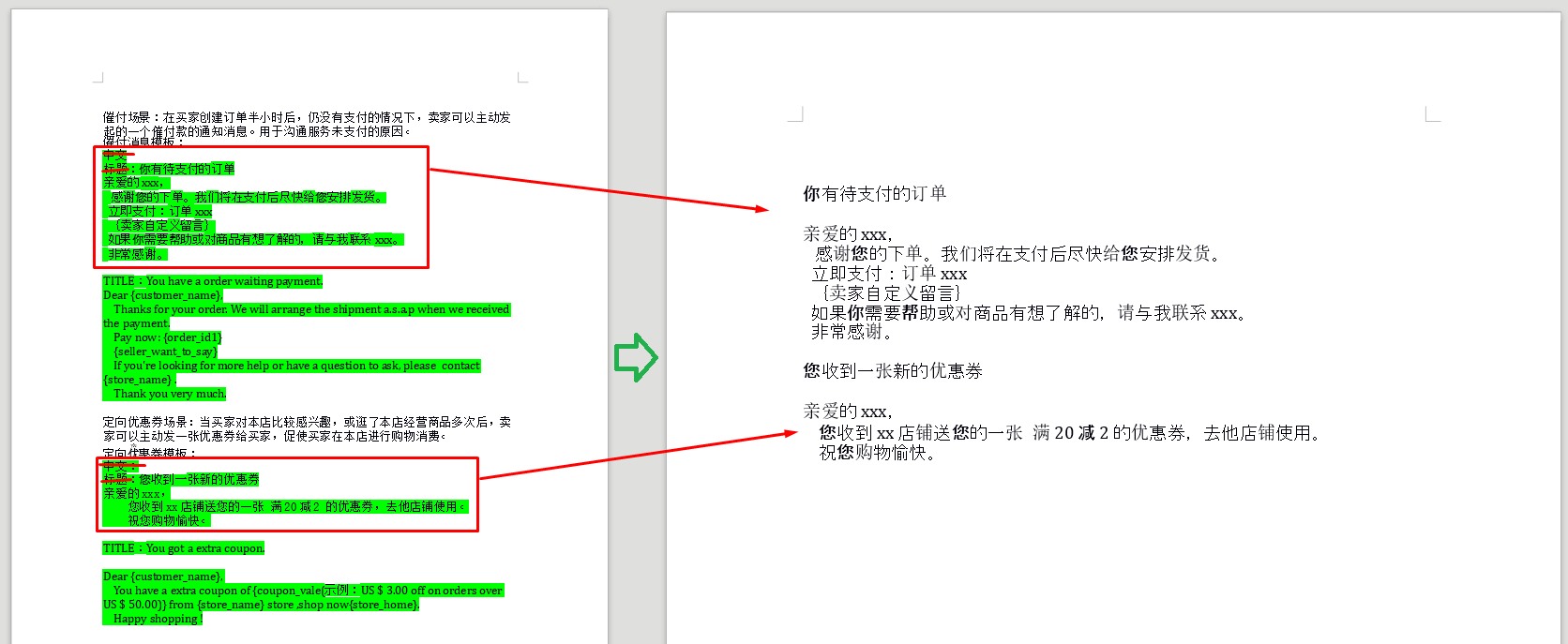 This file is now ready to work in OmegaT or similar program. But there are pitfalls. Put yourself in the place of the customer:
Could he correspond source and translation, giving that he

don't understand target language

?
Is there room for error —

possibility to make a stupid mistake

? For example, selecting a wrong piece of content, or accidentally copy comment section to the actual web page?
Is the file structure clear?
Word file is not a perfect choice for such cases, as text to translate mixed with comment text. You can ease the job yourself and the customer. The more clear the structure is, the fewer questions he will ask. The solution is simple: transfer desired text in Excel spreadsheet: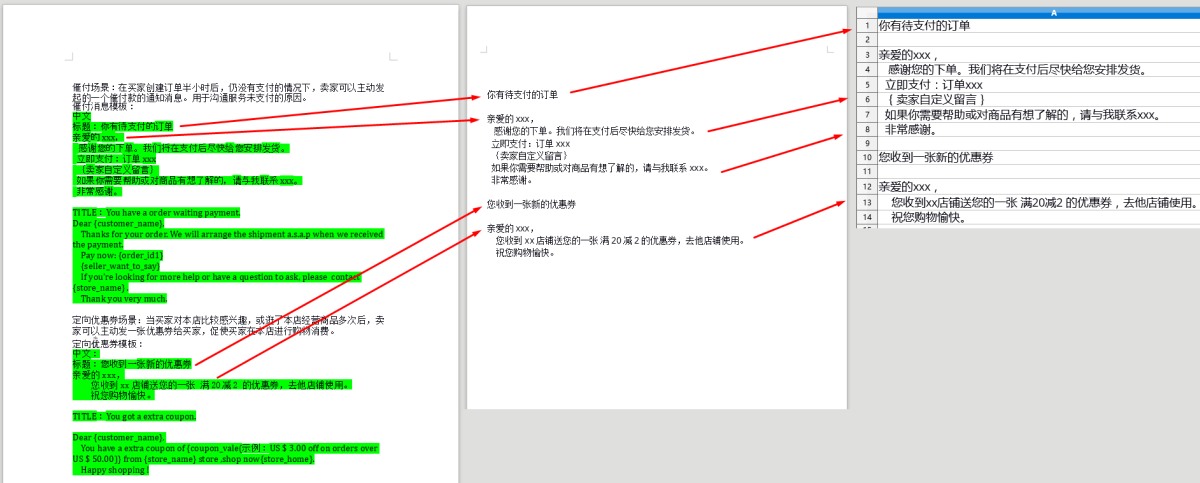 This is a simple Ctrl+C -> Ctrl+V whichever format you choose, save the resulting file in the folder \source\ your OmegaT project.

How much should I charge?
Now we have the only file that should be translated. And we can figure out how much the customer must pay for the translation. Unit of measurement in text translation is one word. For languages like Chinese where it is hard to define a single word, the default unit will be a single character. But that's not all. Good translator, working with a large project, makes discount by leveraging recurring segments and fuzzy matches , charing less for them, because he spent much less effort. To ask for less money may seem is counterintuitive, but making the discount and explaining to the customer why you do so, will raise your reputation in his eyes, and create an image of an honest contractor. Although I can fake it, it's up to you.
Note: make discounts for the repetition only within a specific project. To take cheaper over the fuzzy match with your other TM (unrelated to current project) is not advisable 🙂
Microsoft Word may count the number of characters, but it will not calculate repetitions, and CAT like OmegaT will do it. First look atGeneral statistics. Launch OmegaT, click Tools -> Statistics
note the numbers in total Characters and unique Characters. The difference between these two figures — characters in a sentence that is repeated in this document and are translated automatically, i.e. does not require you additional effort. And you can see details for similar segments where match is less then 100%. To do this, press Tools -> Match statistics per file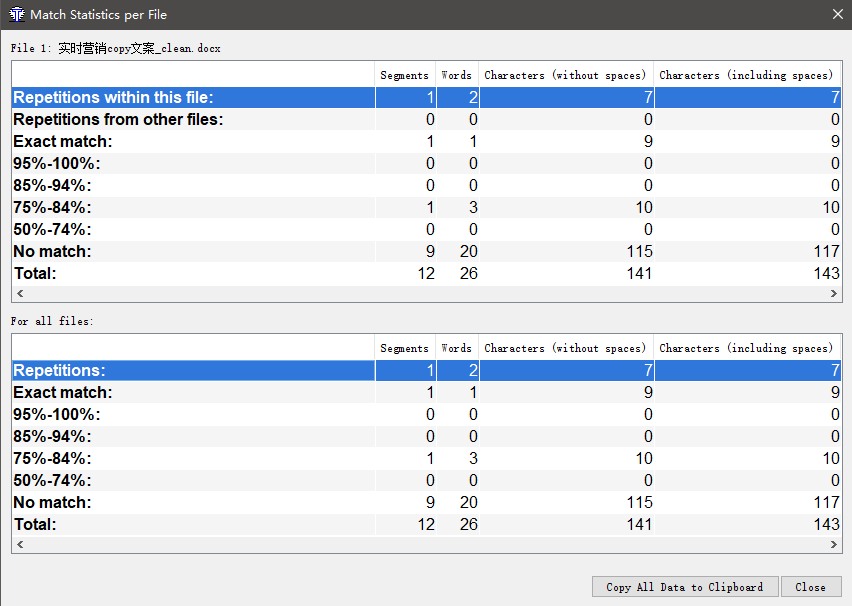 So how much to ask for?!
If you are just beginning to translate, and don't know how much to ask money symbol page, then look at the price of your direction in different translation agencies. Ask for as much or more by 50%. If the customer refuses, bargain. In any case, the first orders you will earn more experience than money.
Translation
Launch OmegaT, open the project file, begin translation.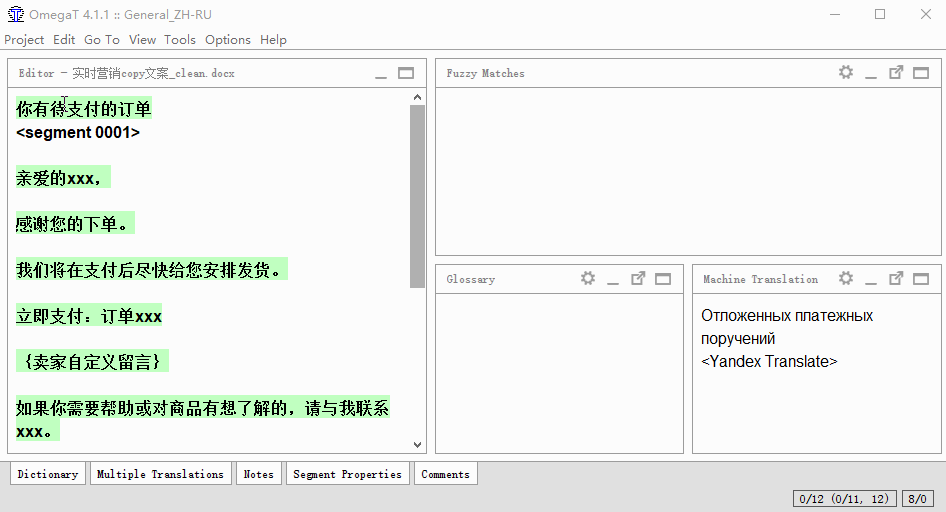 During translation process add new terms to Glossary, it may be a different translation, but you would like to stick to one. For example, if you are afraid to get lost in the translation of the word 订单 (order, order form, purchase) — add it to the Glossary. The next time the word found in the text, the system will suggest the translation, and will even help him to type it: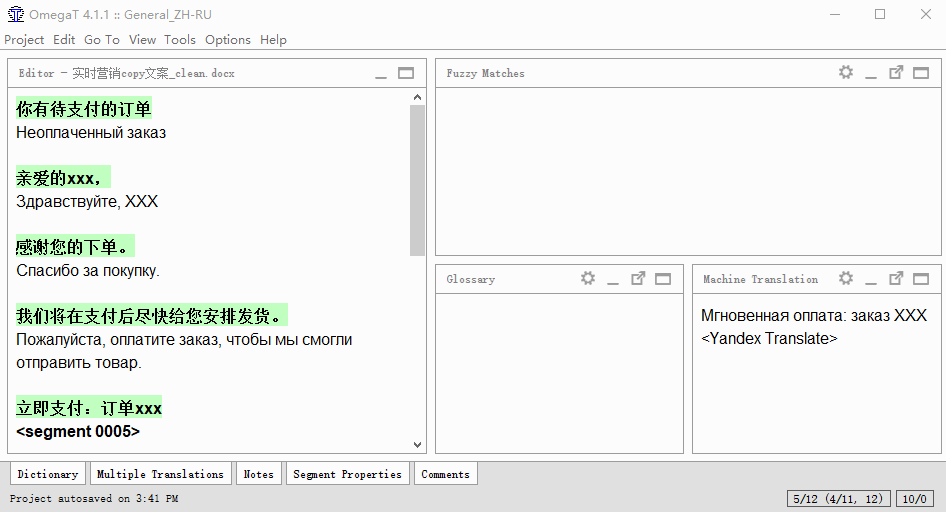 Review
Before you return the file to the customer, verify that the text has no mistakes: use built-in Language Tools. To do this, press Tools -> Check issues…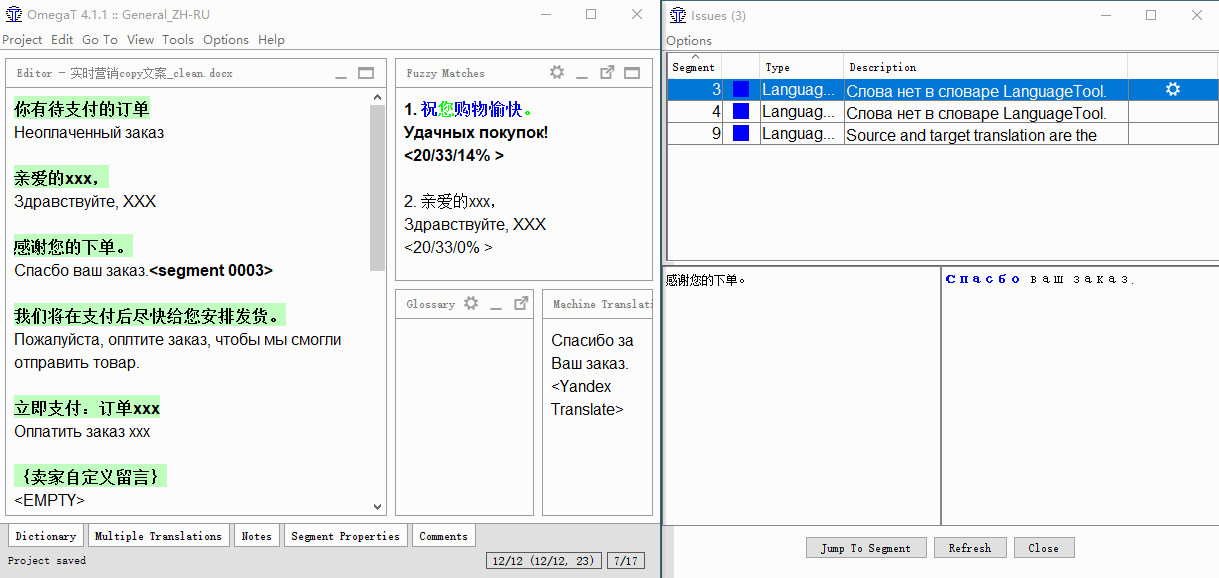 You can see three mistakes here. Two typos — nothing unusual, it could be seen through spellchecker in a Word. But no translation for one sentence probably would be left missed by simple text editor. Double click on the error in Issues to go to the segment with it.
Create the final file
When the translation is finished, press Project -> Create translated documents. In the folder \target\ the file will appear. It will have the same structure as the original file, only the text will be replaced with the translation. Here are the original and the translated Word files: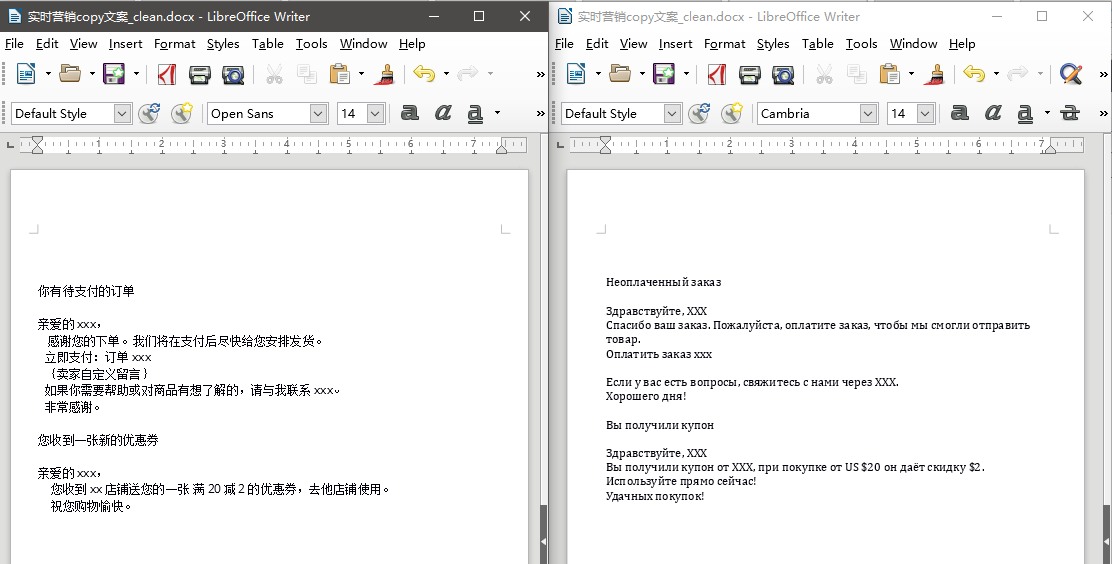 This option is optimal if you, for example, translate a contract or book, and you need a identical copy of the document in a different language. But if the client will continue to use your text, he will be in difficulty. How he would be able to match your translation with the original, not peering in each row? In this case you can use Excel: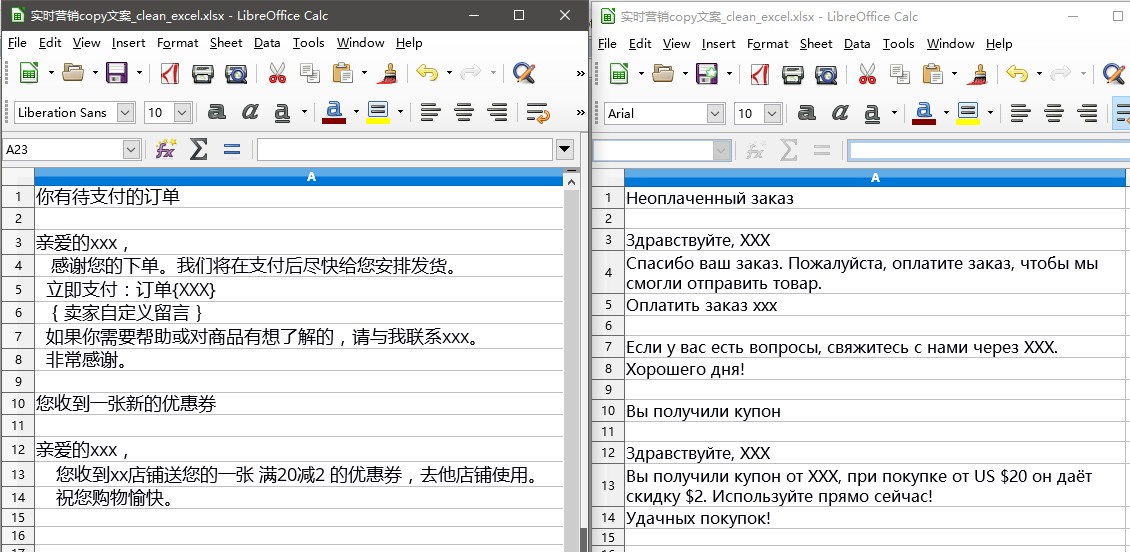 As you can see, each line in Chinese corresponds to a line in Russian under the same number. Now you simply need to combine both columns in a single file. Copy the column to another file, and mark them. The customer will not go wrong: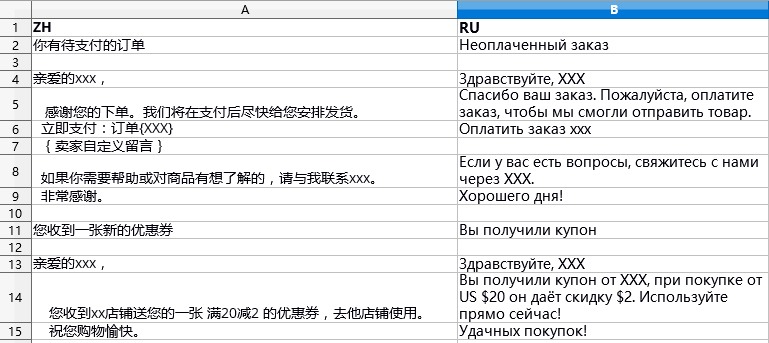 File is ready, return it to the customer.
Conclusion
There are lots of tiny little things and secrets in translators daily work. Ask me anything! I am here to answer.
P.S.: This article were translated from Russian using this exact process and OmegaT. 🙂
blog.wtigga.com – Заметки белого тигра